It must be emphasized that ic! berlin glasses really are produced in Berlin. Ic! berlin glasses are luxury articles, hand-finished, piece by piece. This factor eliminates unnecessary long distances between design, production, and distribution – no "made in china." With ic! berlin, all branches can be found in one building, the backfabrik (bake-factory) in Berlin mitte (central Berlin). Only in this way can the highest degree of quality be lastingly guaranteed: made in berlin – made in germany!
When you hold a pair of ic! berlin glasses in your hands, you can feel why all of this effort is justified: the glasses captivate you with their form-stability, and flexibility. The rounded edges caress your fingers. ic! berlin glasses do not allow for compromises, because they are naked. Because we neither screw, solder, or weld, no pair of ic! berlin glasses can irreversibly lose its parts or components!
The Technology: ic! berlin steel frames are made from our special spring steel that we have improved over many years to maximize flexibility and strength.
ic! Berlin was founded by Ralph Anderl in 1997. Ralph is a true renaissance man with superb design skills and not afraid to push the boundaries when promoting his unique brand. It all started in a living room with a simple tool and an aluminum sheet.
ic! Berlin glasses are handcrafted and great care is taken with each piece. These screwless, sheet metal glasses combine great functional design with modern edgy, urban fashion. Strong, lightweight and unique items, Ralph Anderl has succeeded in creating an eyewear brand which stands apart. ic! Berlin glasses are made with a patented hinge design that uses no screws or glue – earning them many design awards for innovation. Going against the grain of traditional eyewear fashion, the glasses have built themselves up from a niche brand only available to the super-cool, to something accessible by everyone.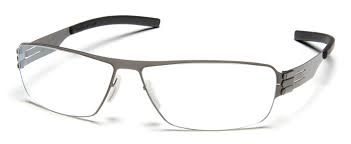 WEBSITE: http://www.ic-berlin.de